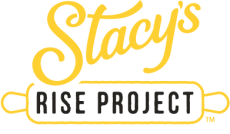 Apply to the Stacy's® Rise Project for a once-in-a-lifetime opportunity to grow your business through funding, mentorship and community
THIS CONTEST IS INTENDED FOR PLAY IN THE UNITED STATES ONLY AND WILL BE GOVERNED BY U.S. LAW. DO NOT ENTER UNLESS YOU ARE ELIGIBLE AND RESIDE IN ONE OF THE FIFTY (50) UNITED STATES OR THE DISTRICT OF COLUMBIA AT THE TIME OF PARTICIPATION.
STACY'S® RISE PROJECT CONTEST ("CONTEST")
OFFICIAL RULES
NO PURCHASE OR PAYMENT NECESSARY TO ENTER OR WIN. PURCHASE WILL NOT INCREASE YOUR CHANCES OF WINNING.
1. ELIGIBILITY: The Contest is open to females who are legal residents of the fifty (50) United States or the District of Columbia and eighteen (18) years of age or older (19 in AL and NE) ("Entrant"). Void where prohibited. The Entrant must be a business owner who is the leading executive (i.e. Founder and/or President, CEO, CFO, COO, or any such other similar title) of a company that meets the following criteria:
Must sell a packaged food or beverage product or a food or beverage service.

Must be recognized within the United States as a business entity (Incorporated, sole proprietorship, general partnership, limited partnership (LP), limited liability company (LLC), C-corporation, and S-corporation; or other entity type as approved by Sponsor, in Sponsor's sole discretion).
Must have demonstrated sales / Company must have sold their product or service prior to the Contest start date (see Section 2); and will need to have at least $25,000 and no more than $2MM in annualized sales.
Must be at least 50% female founded (based on original founding not current investment ownership).
Must be willing to participate in a Mentorship Program (defined in Section 7).
Must not be part of an accelerator program at the time of entry.
The Contest is subject to applicable federal, state, and local laws and regulations. Frito-Lay, Inc. ("Sponsor") reserves the right, at any time, to verify eligibility requirements in any manner it deems appropriate. By participating, Entrants agree to these Official Rules, which are final and binding in all respects. Entrant is providing an Entry (defined in Section 3) on behalf of their company. Grant funding shall be paid to the company. No individual Entrant will receive a grant. Company shall be defined as the "Company name" submitted within the Entry.

NOTE: A Company employee may complete and submit the Entry (defined below) on behalf of the Entrant and Company as long as the submission is in accordance with these Official Rules. If a Company has two (2) or more founders, the Company is required to designate one (1) person as the Entrant on behalf of the Company to enter the Contest, who must agree to these Official Rules. Neither Sponsor nor its Contest agencies are liable for any disputes between co-founders arising under or related to the Contest.
The following persons are NOT eligible to participate: Employees, contractors, directors and officers of Frito-Lay, Inc. ("Sponsor"), its parent, subsidiary, and affiliated companies, participating retailers, distributors, Web design, advertising, fulfillment, judging and promotion agencies involved in the administration, development, fulfillment and execution of this Contest, and the immediate family members (spouse, parent, child, sibling, grandparent, and/or "step") of each and those living in their same households (those persons whether related or not who live in the same residence for at least three [3] months during the twelve [12]-month period preceding the start date of the Sweepstakes).
2. CONTEST PERIOD: The Contest begins May 10, 2019 at 12:00:00 p.m. (noon) Central Time ("CT") and ends June 21, 2019 at 11:59:59 p.m. CT (the "Contest Period"). The time clock of the computer administering this Contest is the official clock for this Contest.
3. HOW TO ENTER: During the Contest Period, visit www.stacysrise.helloalice.com ("Web Site") and follow the online instructions to complete the online application. The application shall consist of a series of questions about the Entrant and her Company, including how the Company would use the grant funds if selected as a Finalist and/or the Winner. Additionally, Entrant will be required to upload a video describing:
Who they are and their journey as an entrepreneur?

The Company's product/service and their favorite thing about their product or service.
What makes their Company's product/service unique?
How they would use the $20,000 grant if they received it.
Additional video requirements:
Video must not exceed three (3) minutes.

Must be in English.
Entrant must appear in the video.
Entrant must upload the video from her personal YouTube Account. To create a free YouTube account, visit www.youtube.com. Altogether, the online application and video shall be referred to as the "Entry".
Entry Considerations:
Once an Entry has been submitted, it cannot be modified in any way and Sponsor will not be responsible for any incomplete Entries or Entries not received, not recognized or not accepted for any reason or delayed.

No fees shall be payable to any Entrant in relation to their participation in the Contest. All related costs will be at the sole and absolute responsibility of the Entrant.
Entrant represents and warrants that: (i) she has the right to submit the Entry, (ii) all Entry information is true and not misleading, and (iii) she has read, understands and agrees to these Official Rules.
Entrant will retain all rights in and to their product/service, including, without limitation, all intellectual property rights; however, Entrant must not and agrees not to disclose any information confidential to or a trade secret of the Entrant or any third party. All information disclosed by Entrant will be treated as non-confidential by Sponsor.
Entrant must declare any conflict of interest (whether actual or potential), such as existing investment by companies which compete with any of Sponsor's or Sponsor's parent, affiliate or subsidiary companies or presence on the management board of individuals who may have such a conflict.
Entrant acknowledges and agrees that: (i) Sponsor has wide access to ideas, designs, protocols, methodologies and ideas for products, and that new ideas for products are constantly being submitted to it or being developed by its own employees; (ii) many of those products may be competitive with, similar to, or identical to Company's product/service; (iii) Sponsor will not refrain from developing or authorizing another to develop any products, concepts, systems or techniques that may be similar Company's product/service; and (iv) Entrant will not be entitled to any compensation as a result of the introduction by any Sponsor's or Sponsor's parent, affiliate or subsidiary companies of any similar product that has or may come to any such company from other sources or is developed by Sponsor itself or any of its affiliated companies. Entrant acknowledges and agrees that neither Sponsor nor its parent, affiliate or subsidiary companies have now or shall have in the future any duty or liability, (whether direct or indirect) with respect to the infringement or protection of Entrant's patent (if any) or other intellectual property rights related to the Company's product/service.
Limit one (1) Entry per Company. Entries will be judged. See Section 5 for Finalist Contest Judging Criteria and Section 7 for Winner Judging Criteria. By submitting an Entry, Entrant agrees that her Entry conforms to the "Entry Guidelines" specified in Section 4. Entries that are not in accordance with the "Entry Guidelines" as stated in Section 4 or are not received during the Contest Period will be ineligible.

BY SUBMITTING AN ENTRY, ENTRANT ACKNOWLEDGES THAT HER ENTRY MAY BE POSTED ON SPONSOR'S WEB SITE OR ITS SOCIAL MEDIA ASSETS, AT SPONSOR'S DISCRETION. Sponsor has no obligation to use or post any Entry you submit. Sponsor shall have full right and power to copy, publish, broadcast, display, distribute, use, edit, translate, alter, combine with other material, reuse and adapt any or all portions of the Entries in any way and for any purpose whatsoever (in accordance with these Official Rules), at any time, now or in the future, in any media now known or hereafter devised throughout the world in any manner whatsoever and for any purpose.
4. ENTRY GUIDELINES: Entries must comply with these Official Rules. By submitting an Entry, you agree that your submission is gratuitous and made without restriction, and will not place Sponsor under any obligation, and that Sponsor is free to disclose the ideas contained in the Entry on a non-confidential basis to anyone or otherwise use the ideas without any additional compensation to you. You acknowledge that, by acceptance of your submission, Sponsor does not waive any rights to use similar or related ideas previously known to Sponsor, or developed by its employees, or obtained from sources other than you. Sponsor reserves the right to, and may or may not, monitor/screen Entries. By submitting an Entry you warrant and represent that it: (i) is your original work, (ii) has not been previously published, (iii) has not been entered in or won previous contests or awards, (iv) and that you have received permission for the use of the image/likeness of any and all identifiable persons who are referenced in your Entry and it does not infringe upon the copyrights, trademarks, rights of privacy, publicity or other intellectual property or other rights of any person or entity, (v) that you have obtained permission from any person whose name or likeness is used in your Entry; and (vi) that publication of the Entry via various media including Web posting, will not infringe on the rights of any third party rights. Each Entrant will indemnify and hold harmless, Sponsor from any claims to the contrary. Any Entrant whose work includes likenesses of third parties or contains elements not owned by the Entrant (other than their Company or Sponsor's) must be able to provide legal releases for such use including Sponsor's use of such Entry, in a form satisfactory to the Sponsor, upon request, prior to awarding of grant.
As determined by the Sponsor, in its sole discretion, Entries must meet the following guidelines: (i) Must comply with these Official Rules and any Terms of Service on the Web Site; (ii) Cannot be sexually explicit or suggestive, unnecessarily violent or derogatory of any ethnic, racial, gender, religious, political, professional or age group, profane or pornographic, or contain nudity; (iii) Cannot promote alcohol, marijuana, illegal drugs, tobacco, firearms/weapons (or the use of any of the foregoing), any activities that may appear unsafe or dangerous, or any particular political agenda or message; (iv) Cannot be obscene or offensive, endorse any form of hate or hate group; (v) Cannot promote terrorist acts such as providing instructions on how to assemble bombs, grenades and other such weapons or provide instructional information about illegal activities; (vi) Cannot defame, misrepresent or contain disparaging or slanderous remarks about Sponsor, its customers or its products, or other people, products or companies; (vii) Cannot contain or reference any trademarks, logos or trade dress owned by others (except Sponsor's trademarks, logos or trade dress), or advertise or promote any brand or product of any kind (except Sponsor's products), without permission, or contain any personal identification, such as license plate numbers, personal names, email addresses or street addresses; (viii) Cannot contain copyrighted materials owned by others (except materials owned by Sponsor) without permission; (ix) Cannot contain materials embodying the names, likenesses, photographs, or other indicia identifying any person, living or dead, other than the Entrant, without permission; (x) Cannot communicate messages or images inconsistent with the positive images and/or goodwill to which Sponsor wishes to associate; (xi) Cannot depict, and cannot itself, be in violation of any law; and (xii) must comply with YouTube's Terms of Service (available at http://www.youtube.com/t/terms) and Community Guidelines (available at http://www.youtube.com/t/community_guidelines)
If you think that any Entry infringes your intellectual property rights, please follow the notification guidelines as stated herein. Frito Lay North America, Inc. investigates notices of alleged infringement and takes appropriate actions under the Digital Millennium Copyright Act, Title 17, United States Code, Section 512(c) ("DMCA"). Frito-Lay's Designated Agent to receive notifications of claimed copyright infringement is: By Mail: Jeanette Zimmer, 7701 Legacy Drive, Mail Drop 3A-160F, Plano, Texas 75024. By Email: [email protected] Your notice of claimed infringement must include the following information: (i) A physical or electronic signature of a person authorized to act on behalf of the copyright owner; (ii) Identification of the copyrighted work claimed to have been infringed; (iii) Identification of the material that is claimed to be infringing or to be the subject of the infringing activity, and that is to be removed or access to which is to be disabled, as well as information reasonably sufficient to permit us to locate the material; (iv) Information reasonably sufficient to permit us to contact the copyright owner, such as an address, telephone number, and, if available, an electronic mail address; (v) A statement that you have a good faith belief that use of the material in the manner complained of is not authorized by the copyright owner, its agent, or applicable law; and (vi) A statement that the information in the notification is accurate, and under penalty of perjury, that you are authorized to act on behalf of the copyright owner. For more details on the information required for valid notification, see 17 U.S.C. 512(c)(3). Under the DMCA, claimants who make misrepresentations concerning copyright infringement may be liable for damages incurred as a result of the removal or blocking of the material, court costs, and attorneys' fees.
ENTRIES POSTED TO THE WEB SITE (IF ANY) WERE NOT EDITED BY SPONSOR AND ARE THE VIEWS/OPINIONS OF THE INDIVIDUAL ENTRANT AND DO NOT REFLECT THE VIEWS OF SPONSOR IN ANY MANNER. Any waiver of any obligation hereunder by Sponsor does not constitute a general waiver of any obligation to Entrants. Sponsor reserves the right to waive the entry requirements set forth herein in its sole discretion.
5. FINALIST CONTEST JUDGING: Entries will be judged by Sponsor and/or its designated agencies ("Panel") based on the following equally-weighted criteria ("Finalist Judging Criteria"):
Creativity/Originality of product/service (How unique/original is your product/service?)

Scalability of your company's product/service (How would you grow your product/service?)
Strategic fit with PepsiCo and its corporate social impact efforts of sustainability and diversity
The Entrants/Companies that submitted the five (5) Entries receiving the highest cumulative scores as awarded by the Panel will be deemed the "Finalists" (subject to verification and compliance with these Official Rules). In the event of a tie, the tie will be broken based on the highest score in the first judging criterion continuing thereafter to each judging criterion in order, as needed to break the tie. Limit one (1) Finalist per Company. Finalists will be notified on or about July 15, 2019.
Decisions of the Panel are final and may be made in its absolute and sole discretion.
Additionally, Sponsor reserves the right, in its sole discretion, to conduct a brief interview with any Entrant and request for Entrant to submit additional materials relating to their Entry if Sponsor deems, in its sole discretion, necessary to fairly judge such Entry.
Sponsor reserves the right to not award any grants, if in its sole discretion, it does not receive any suitable Entries. No details of the deliberations on individual Entries will be revealed to Entrants or the public.
6. NOTIFICATION OF FINALISTS: Potential Finalists will be notified by email and/or phone at the email address or phone number provided by the Entrant at the time of entry. Sponsor is not responsible for suspended or discontinued Internet or wireless service or a change in Finalist's phone number or email address, which may result in a potential Finalist not receiving notification. Finalists will be required to sign and return a Grant Acceptance Agreement and a non-disclosure agreement within seven (7) days of attempted Finalist notification as indicated by the date on the agreements. In the event any required documents are not provided within seven (7) days, Finalist grant may be forfeited. If any Finalist notification is returned as undeliverable, without a forwarding address or if any documents are not returned within the required number of days, or if Finalist cannot be found or verified or if Finalist is otherwise unable to accept the grant as stated, grant and Mentorship Program (defined below) may be forfeited. Upon forfeiture for any reason, no compensation shall be given.
Entrants may not make any public statement regarding the award of a grant without the prior written consent of Sponsor, not to be unreasonably withheld or delayed.
7. GRANT FUNDING DETAILS:
Finalist Grant Funding. Each Company that is a Finalist will receive a $20,000 (USD) grant to be used for the benefit of Finalist's Company and Finalist/Company will be required to participate in a mentorship program where Finalist will be mentored by Sponsor and/or its designated agency(ies) for a period of approximately three (3) months (the "Mentorship Program").
Mentorship Program. The Mentorship Program is a collaborative mentor-guided business acceleration program consisting of a trip to Sponsor's headquarters ("Trip"); and a coaching session with an entrepreneur expert, online office-hours access to experts, Virtual Training and Support via PepsiCo WomanMade Community on Alice, and bi-weekly calls with assigned mentors ("Other").
"Trip" portion of Mentorship Program. The "Trip" consists of round-trip coach air transportation (from a major airport nearest Finalist's residence in the U.S./D.C.) to Plano, Texas to visit Frito-Lay's headquarters to attend a kickoff meeting with other Contest Finalists and Sponsor and/or its designated agency(ies) to discuss the Mentorship Program; standard single-occupancy hotel accommodations for up to two (2) nights; and ground transportation to/from airport, hotel, and Frito-Lay's headquarters while in Texas. Tentative travel dates shall likely occur between July 19, 2019 and August 15, 2019 exact date(s) to be determined at a later date by Sponsor, in Sponsor's sole discretion. Approximate Retail Value ("ARV") of "Trip": Up to $2,000.00 (USD) each. Actual retail value of Trip may vary depending on departure city and may fluctuate due to market conditions.
Finalist also receives an Entrepreneur Pass to Alice's female founder conference, Circular Summit 2020, which will take place at a location to be determined at a later date and tentatively scheduled for May of 2020. Travel and accommodations to the Circular Summit 2020 not included. ("Circular Summit 2020 Pass") ARV: $699.00 (USD).
A Finalist may delegate the Trip portion of the Finalist Prize to another Company employee, as approved by Sponsor, in Sponsor's sole discretion if Finalist is unavailable to travel on the specified dates. In the case where a delegate is unable to travel or does not attend the meeting, the grant and Mentorship Program may be forfeited and offered to the next runner up based on the Contest Judging and time permitting.
Applicable to Trip. Selection of airline and hotel is solely within Sponsor's discretion. All other expenses not specifically mentioned herein are solely the Finalist's responsibility. The Finalist will be required to provide a credit card to the hotel to cover incidentals. If Finalist resides within 200 miles of Plano, Texas, another method of transportation may be substituted for air transportation by Sponsor, in its sole discretion. All travel is subject to availability and restrictions. The Finalist must have all necessary identification and/or travel documents (e.g., a valid U.S. state issued driver's license) required for travel. The Finalist understands that there are inherent risks involved in travel and that these risks may be present before, during and after the Trip. Sponsor is not responsible for changes in schedule, of any element of the Trip, or for any expenses incurred as a consequence of flight cancellation or delay. Sponsor is not responsible and will have no liability if the Finalist is for any reason not permitted to travel by the relevant airport authorities or misses a flight or other Trip element. Flight schedules are subject to change without notice. Sponsor is not liable for any missed events or opportunities or expenses incurred as a consequence of flight cancellation/delay or ground transportation delay. In the event Finalist misses a scheduled airline flight (through no fault of Sponsor or due to Force Majeure), Sponsor will have no liability for any costs associated with changing or rebooking transportation.
"Other" portion of Mentorship Program. Finalists may be required to submit brief progress reports throughout the Mentorship Program and will be required to obtain the consent of Sponsor (not to be unreasonably withheld) for the manner in which they intend to use the grant awarded.
NOTE: Sponsor cannot guarantee the effectiveness or ineffectiveness of any such efforts extended for the Mentorship Program.
$100,000 (USD) Grant Funding. At the conclusion of the Mentorship Program, Sponsor and its designated agency(ies) shall score each Finalist Company's performance based on the following equally-weighted Winner Judging Criteria:
Company's engagement during the Mentorship Program (Overall attitude to PepsiCo; quality of interaction with mentors; engagement in training provided; incorporated learnings; etc.)

End of program pitch by Finalist Company*
*Finalist Company may be asked to attend a second in-person event to present their overall experience with the Mentorship Program including future plans for their Company. Additional details regarding the pitch will be provided during the Mentorship Program. In the event Finalist Company cannot attend such event, he/she may be allowed to deliver their pitch virtually, as determined by Sponsor, in Sponsor's sole discretion.
The Finalist Company receiving the highest cumulative score as awarded by the Panel in the Winner Judging Criteria will receive the $100,000 (USD) grant. In the case of a tie, the tie will be broken based on the highest score in the first Winner Judging Criterion continuing thereafter to the second Winner Judging Criterion, as needed to break the tie. The Company receiving the $100,000 (USD) grant shall be announced on or about November 19, 2019.
8. LIMITATIONS OF LIABILITY AND RELEASE: No responsibility is assumed by Sponsor for lost, late, mutilated, illegible, unintelligible incomplete, misdirected Entries or postage-due mail. No liability or responsibility is assumed by Sponsor resulting from Entrant's participation in or attempt to participate in the Contest or ability or inability to upload or download any information in connection with the Contest. No responsibility or liability is assumed by Sponsor for technical problems or technical malfunction arising in connection with any of the following occurrences which may affect the operation of the Contest: Hardware or software errors; faulty computer, telephone, cable, satellite, network, electronic, wireless or Internet connectivity or other online or network communication problems; errors or limitations of any Internet or wireless providers, servers, hosts or other providers; garbled, jumbled or faulty data transmissions; failure of any online transmissions to be sent or received; lost, late, delayed or intercepted transmissions; inaccessibility of the Web Site in whole or in part for any reason; traffic congestion on the Internet or the Web Site; unauthorized human or non-human intervention of the operation of the Contest, including without limitation, unauthorized tampering, hacking, theft, virus, bugs, or worms; or destruction of any aspect of the Contest, or loss, miscount, misdirection, inaccessibility or unavailability of an email account used in connection with the Contest. Sponsor is not responsible for any typographical, technical, computer, network or human errors which may occur in the administration of the Contest, the uploading, the processing of Entries, the judging of Entries, the announcement of the Finalists or these Official Rules or in any Contest-related materials. Use of Web Site is at user's own risk. Sponsor is not responsible for any personal injury or property damage or losses of any kind which may be sustained to user's or any other person's computer or web-enabled device resulting from participation in the Contest. SOME JURISDICTIONS DO NOT ALLOW THE LIMITATION OR EXCLUSION OF LIABILITY FOR INCIDENTAL, CONSEQUENTIAL, OR OTHER DAMAGES; AS A RESULT, THE ABOVE LIMITATIONS OR EXCLUSIONS MAY NOT APPLY TO YOU, AND THE FOREGOING PARAGRAPHS SHALL NOT APPLY TO A RESIDENT OF NEW JERSEY TO THE EXTENT DAMAGES TO SUCH NEW JERSEY RESIDENT ARE THE RESULT OF SPONSOR'S NEGLIGENT, FRAUDULENT OR RECKLESS ACT(S) OR INTENTIONAL MISCONDUCT.
9. RELEASE OF LIABILITY: By participating in the Contest, Entrants agree (i) to release Sponsor, its parent company, subsidiaries, affiliates, officers, directors, employees, governors, owners, distributors, retailers, agents, assignees, advertising/promotion agencies, representatives, and agents (altogether the "Released Parties") from any and all claims, damages or liabilities arising from or relating to such Entrant's participation in the Contest; (ii) under no circumstances will Entrant be permitted to obtain awards for, and Entrant hereby waives all rights to claim, punitive, incidental, consequential, or any other damages, other than for actual out-of-pocket expenses; (iii) all causes of action arising out of or connected with this Contest, or any grant awarded, shall be resolved individually, without resort to any form of class action; and (iv) any and all claims, judgments, and award shall be limited to actual out-of-pocket costs incurred, excluding attorneys' fees and court costs. By accepting a grant along with the Mentorship Program, Trip, and Circular Summit 2020 Pass, Finalists/Companies (i) agree that Released Parties will have no liability whatsoever for, and shall be held harmless by Finalist against, any liability for injuries, losses or damages of any kind to persons or property resulting in whole or in part, directly or indirectly, from participation in the Contest; from acceptance, possession, misuse or use of grant, Mentorship Program, Trip, and/or Circular Summit 2020 Pass and (ii) grants (and agrees to confirm grant in writing promptly upon request) to Sponsor and those acting under Sponsor's authority, and each of their respective designees the right to use her name, Company name, photograph, likeness, voice, image, statements, biographical information, and Entry (which may be altered, changed, modified, edited, used alone or with other works, as solely determined by Sponsor) at any time or times, for advertising, trade, publicity and promotional purposes in any media now known or hereafter discovered, worldwide, including the Internet without review, notification or approval, and additional compensation or consideration, unless prohibited by law. Released Parties are not liable in the event that any portion of the Contest is canceled due to weather, fire, strike, acts of war or terrorism, or any other condition beyond their control (a "Force Majeure Event").
10. GENERAL CONDITIONS: The grant(s) will not be awarded to any Entrant; the grant will be awarded to the Company. Company will be responsible for reporting and paying all federal, state, and/or local taxes, and for any other fees or costs associated with the grant Company receives, regardless of whether it, in whole or in part, is used. The value of the grant awarded to the Company may be reported for tax purposes where required by law. Recipients of the Trip and Circular Summit 2020 Pass are solely responsible for any taxes associated with the Trip and Circular Summit 2020 Pass, if any, and may receive an IRS Form 1099 for the ARV of the Trip and Circular Summit 2020 Pass. No cash equivalent or substitution of the grant is offered, except at the sole discretion of the Sponsor. Grant cannot be transferred. Unclaimed grants will not be awarded. If the grant, or any portion thereof, cannot be awarded for any reason, Sponsor reserves the right to substitute grant with another award of equal or greater value. If for any reason the Contest is not capable of running as planned, including infection by computer virus, bugs, tampering, unauthorized intervention, fraud, technical failures, or any other causes which corrupt or affect the administration, security, fairness, integrity or proper conduct of the Contest, Sponsor reserves the right to (a) cancel, suspend and/or modify the Contest, or any part of it, and (b) disqualify any individual who is responsible for such action. If terminated, Sponsor may, in its sole discretion, determine the Finalists from among all eligible Entries received up to time of such action in a manner as determined by an independent judging agency. This Contest is offered only in the United States and all issues and questions concerning the construction, validity, interpretation and enforceability of these Official Rules, Entrant's rights and obligations, or the rights and obligations of the Sponsor in connection with the Contest, shall be governed by, and construed in accordance with, the laws of State of Texas, without giving effect to any choice of law or conflict of law rules. By entering, Entrants consent to the jurisdiction and venue of the federal, state and local courts for Collin or Dallas Counties, Texas.
All personal information collected in connection with this Contest will be used in accordance with Sponsor's Privacy Policy, please visit http://www.fritolay.com/legal/privacy-policy.htm. Additionally, any communication between Entrant and Sponsor or its agencies regarding this Contest (e.g. phone calls, text messages, chats, emails, etc.) may be recorded for quality assurance and training purposes. The Finalists/Companies' names may be included in a publicly available winner's list.
LEGAL WARNING: ANY ATTEMPT BY AN INDIVIDUAL, WHETHER OR NOT AN ENTRANT, TO DELIBERATELY DAMAGE, DESTROY, TAMPER OR VANDALIZE THE WEB SITE OR INTERFERE WITH THE OPERATION OF THE CONTEST IS A VIOLATION OF CRIMINAL AND CIVIL LAWS AND THE SPONSOR RESERVES THE RIGHT TO SEEK DAMAGES AND DILIGENTLY PURSUE ALL REMEDIES AGAINST ANY SUCH INDIVIDUAL TO THE FULLEST EXTENT PERMITTED BY LAW.
11. WINNERS' LIST: For a list of the Finalists and the name of the winning Company, send a self-addressed stamped envelope by December 31, 2019 to: Stacy's Rise Project Contest Winners' List, 10 South 5th Street-7th Floor, Dept. 885-700, Minneapolis, MN 55402.
12. SPONSOR: Frito-Lay, Inc. 7701 Legacy Drive, Plano, TX 75024-4099.
© 2019 Stacy's Pita Chip Company, Inc.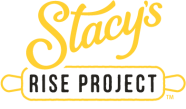 Alice is a free platform for business owners to find the right path to start and grow their companies.
The 3rd annual Rise Project initiative will center around mentoring, supporting and funding female-founded businesses just like Stacy's®